Your Corporate Training Team
The Corporate and Continuing Education Center's Instructors are experienced in delivering quality training solutions for business and industry. Courses are focused, hands-on, and results driven. Because our instructors are experts in their respective industries, they are able to share cutting-edge knowledge and practical know-how that can be immediately put to use in the workplace. The Corporate and Continuing Education Center employs more than 40 instructors in a wide range of expertise, including:
Accounting & Finance
Aviation/Aerospace
Computer Applications
Customer Service/Communication
Continuous Improvement
Electronics Troubleshooting
English as a Second Language (ESL)

Healthcare
Human Resources Management
Leadership Development/Management
Manufacturing
Project Management
Welding and Fabrication
Many more - ask us.
John Bonner | Executive Director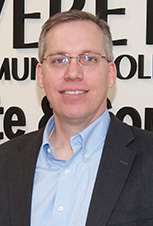 John has worked in higher education to design and deliver training solutions for corporate clients for 20 years. His experience includes serving both small businesses and large Global Fortune 500 companies. "I chose this career because I have always loved learning, and because it's rewarding to see a training program we've designed for an employer positively impact its business and its employees." John leads the Everett Community College's Office of Corporate & Continuing Education, which includes EvCC's aerospace and advanced manufacturing certificate and degree programs and the Corporate & Continuing Education Center (CCEC). John earned two master's degrees (Teaching and Public Administration) from the University of Washington, where he also designed and taught education programs for working professionals. Drawing on his experience in launching and operating a small business in Shanghai, China, John led the development of the Small Business Accelerator, a training and consulting program that helps entrepreneurs spur and sustain business growth. John serves on the Industry board for Economic Alliance Snohomish County, and enjoys spending time with his family, running, and travel.
John has experience in: Educational Leadership, Instructional Design and Delivery, Leadership Development, Strategic Planning, Small Business Acceleration, English as a Second Language (ESL), and Continuous Improvement.
Ray Kubista | Director of Corporate Training
Ray has worked in higher education for nearly 10 years, and lived in Western Washington for more than 30 years. During his 10 years of working in higher education, Ray has worked with large and small companies throughout the Puget Sound region to deliver customized training designed to meet each company's training needs. Trainings have included curricula such as Project Management, Business Intelligence, Programming, MS Office, Leadership, Business Writing, and Interpersonal Communication. Ray graduated with a Bachelor's degree from Western Washington University, volunteered as an English instructor for over 2 years in the Peace Corps, and has served as the president and vice president of the Continuing Education Council. "Working in corporate training provides me the opportunity to work collaboratively with companies to directly address their training needs. I have seen the effect training makes for both the employee and the company, and enjoy being part of the solution". In his free time, Ray enjoys spending time with his family, fishing, and hiking. Ray serves as the main point of contact for business and industry training inquiries.
Ray has experience in: Corporate Training, IT Curriculum, Incumbent Worker Programs, Dislocated Worker Training, Certification Preparation, and Curriculum Development
Kristen McConaha | Director of Business & Professional Programs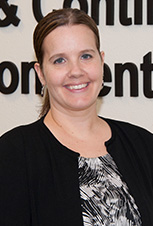 Kristen McConaha leads the college's Corporate & Continuing Education Center Business & Professional Programs. Her experience in higher education began in 1999 and she has served the community by building programs for the local and global community. Prior to coming to Everett Community College, she worked on programs and projects in higher education spanning american business practices for international delegations, workplace health and safety, small business start-up, design and art, project management, human resources management, technical writing, real estate, leadership, grantwriting, and a host more of topics. Current specialty projects include major initiatives with industry standard providers and a large aerospace company in the local area. She has a bachelor's degree in Administrative Management from Central Washington University and has completed several industry standard programs in project management, leadership and communication. She has taught dance, swimming and computer applications in the past and currently enjoys spending time with her family and serves on the Economic Alliance Snohomish County Small Business Board.
Kristen has experience in: Higher Education Program Development, Community Outreach, Program and Major Projects Management, and Design and Marketing.
Gabrielle Bachmeier | Training and Delivery Manager
Gabrielle has worked in higher education for the past 8 years. Her experience includes designing and delivering leadership training to student leaders and managing professional and personal development programs for adult learners. Gabrielle earned a master's degree in Education from Antioch University Seattle and a Training Specialist Certification from the University of Washington, Professional and Continuing Education. "I chose the field of education because I believe in the value of knowledge and I want to help empower people with the tools and skills they need to have successful careers and meaningful lives." In her free time, Gabrielle enjoys snowboards, surfing, camping and hiking with family and friends. Gabrielle manages all of the corporate training logistics and works closely with Ray and the primary company contact to ensure all trainings run smoothly.
Gabrielle has experience in: Curriculum Development, Leadership Training, Program Management, Certification Preparation and Advising Adult Learners.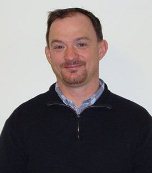 Buzz Loring | Employment Solutions Manager-Manufacturing
Buzz has worked in staffing and sales supporting trades industries for ten years. He has led corporate initiatives in business development and job placement from small contractors to multinational corporations. As Employment Solutions Manager, Buzz helps employers seamlessly access high demand candidates who have been trained in EvCC's industry aligned programs. Programs include Airframe and Powerplant Technician, Precision Machining, Welding/Fabrication, Composites, Engineering Technology, Engineering, Electronics, IPC 610 Soldering, and others. Buzz continues to build relationships with contractors to provide them with graduates of CCEC's aerospace, aviation and advanced manufacturing programs. Buzz Loring has experience in: Management, Recruitment, Defense Contracting, Coaching, Business Development, Sales and Operations.