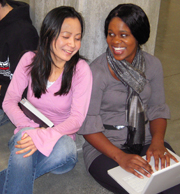 EvCC offers a variety of options for underage youth. If you are not yet 18, nor a high school graduate or haven't earned your GED this page is for you! Just like you these programs are unique and take place in a variety of locations: local high schools, EvCC's campus or at satellite centers. Special Admission Policies, placement testing, special applications and other requirements may apply to under-age students.
Running Start
Arantxa Gallegos
425-388-9073
agallegos@everettcc.edu 

High school juniors and seniors have the opportunity to take college-level courses on a tuition-free basis. Credits earned through Running Start may be used to meet both high school and college requirements.

ORCA
Ardi Kveven
425-267-0156
akveven@everettcc.edu

Ocean Research College Academy is an interdisciplinary program focused on marine sciences.

College in the High School
Karen Landry
425-267-0153
klandry@everettcc.edu

A program of college-level courses in selected subjects offered at various area high schools. These courses are transferable to most universities and are often related to Advanced Placement offerings.

U3 or Youth
Re-Engagement 
Kathy Perkins
425-259-8738
kperkins@everettcc.edu

Educational opportunities with a strong connection to career development and professional technical job training. Youth, age 16-21, who have dropped out of high school may apply.

Tech Prep
Leigh Christianson
425-388-9440
techprep@everettcc.edu

High school students who are enrolled in selected high school vocational and technical courses and meet performance standards may be eligible for college credit.

SummerSmart
Tove Price
425-388-9008
tprice@everettcc.edu

For current high school students, who want to enroll in classes during summer quarter.

Underage Admission
Arantxa Gallegos
425-388-9073
agallegos@everettcc.edu 

Non high school graduates and non GED students under the age of 18, and not involved in any of the above programs, may enroll with special permission.