Explorations
The Campus Solar System Project
Greg Kammer (Design Lead) and Andrew Vanture (Scientific Content Lead)
WHAT IS IT?
This project focus is on creating an outdoor scale model of the solar system to be displayed on and within the community of Everett Community College and surrounding community that will engage and involve students of all levels who interact with it. The key terms are relevant and interactive given cell phones, texting, i-Pods, blue-tooth technology etc. and that the displays will be outside on the Everett Community College campus and community.  The image below is a suggested scale using the campus to contain all the planets.
Mission: The goal of the entire design and science team is to build a scale models of the solar system on or both on and off campus depending on funding so students and visitors to campus, K-12, and other colleges, will have a fun and interactive way to learn about the Solar System.
Impact: Providing educational resources for visitors to Everett Community College campus and the surrounding community.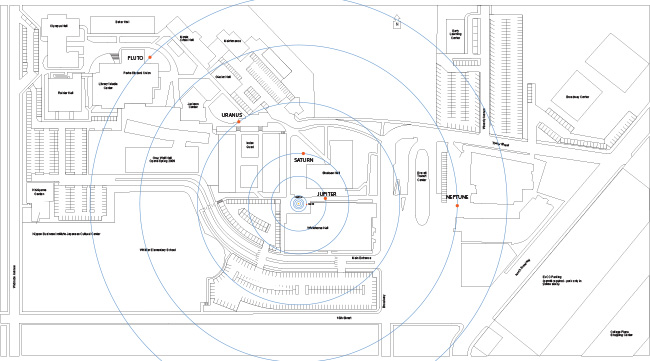 Proposed campus-scaled model of the solarsystem with planet pedestal-plaque positions
Solar System Passport: A passport will be developed that looks like a conventional passport with pages of information on each planet and a space to create a rubbing from a symbol at each planet pedestal. Physical and digital versions.

   Solar Passport Cover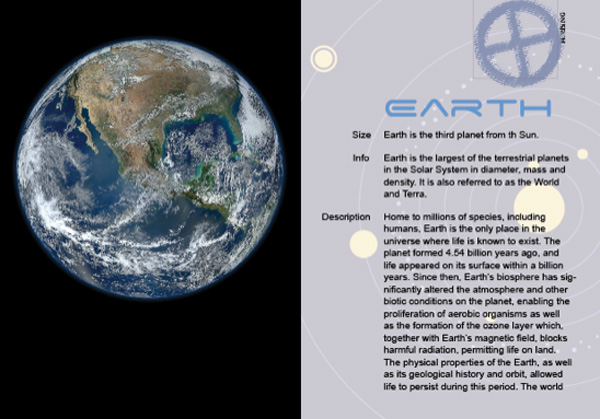 Solar Passport Interior
Is it art or science? BOTH!
SCIENCE: All informational content on the pedestal will be based on current scientific knowledge of the planets. Careful attention will be given to create an accurate scale model of the planet and its position in our solar system. A diagram of the entire solar system and the planet's placement will be included. A quick response code will be included and reference to a sub-site of the college web site containing more information on the solar system and links to resources. Links to our science and engineering departments will be included.
ART: The design will be thoughtfully developed to display and present the content described above in aesthetically compelling way. The overall design of each planetary sculpture will be done with careful consideration of individuals being able to read and interact with each planet pedestal. Sponsors and contributors to the project will be recognized.
Who is doing this?
Greg Kammer, will lead a select team Visual Communications Design students to develop the design of all elements.
Andrew Vanture will lead astronomy students in the gathering of scientific information and developing all content.
Joe Graber will lead engineering students in the materials and installation aspects of the designed elements.
Additional assistance in materials and engineering will be gained from communication with well-designed solar system models built by other schools and organizations.
What is the academic impact?
This project would be of interest to anyone on campus or coming to campus who is curious about he planets. Students of our science and astronomy programs will benefit in an obvious way. The solar system companion website and physical passport containing more information about the solar system and planets will be available through direct web visits or phone. A printed version of the passport can be purchased or downloaded from the companion website and encourages physical activity because it directs the visitor to each pedestal within walking distances. A rubbing of a planet design at each pedestal is made at each planet location in the passport. This makes the journey around the solar system fun and the "traveler" carries with them a souvenir of the experience, re-enforcing the experience and memory
What is the goal, the educational outcome of the project?
Learning Outcome 1: Knowledge / Content
The planets, their scale, and their place in the Solar System
Different types of bodies make up the Solar System (Sun, planets, comets, asteroids)
Learning Outcome 2: Skills
Comprehension: Distances and motion can be scaled, and placement of the sculptures can be set to replicate travel to the model at the speed of light or faster. (i.e. Mars placed 15min walk from sun equals 1 min per speed of light)
Fact recall: From content at each planetary sculpture location and support materials, "Solar System" passport and website with informational download link to cell phones from website and QR code
Interpretation and Sequencing: Relationships of the planets to each other and the sun within the scale model of the solar system. An event could be planned to "Walk the Speed of Light," this provides a physical relationship of the planets. With Neptune and Pluto at the outer regions of the solar system, reaching those locations would be physically more challenging than the closer inner planets.
Comparisons: Scale model of the solar system encourages comparisons of one planet to the other, each sculpture representing its place in the entire solar system.
Learning Outcome 3: Science in Society
Conditions on other planets
Possibility of living on other planets
How do these goals align with the educational mission of EvCC?
Student Success
Being an outdoor and accessible project, open to the community, it will provide open access to affordable education to all members of our community.
Innovation and Leadership
This project is highly innovative, reaching both on and off campus. It supports critical thinking and collaborative learning.
The project will be part of the college infrastructure and supports innovative instruction, prepares students for technologies of the future, and links education and training to high demand career paths.
Is a bold opportunity and challenge, an innovative way to stay ahead in a competitive environment.
Community Connections and Partnerships
Listens and respond to community needs.
Builds trust and accountability with our local, regional, and global communities through frequent and effective communication.
Embodies networks and partnerships to advance institutional innovation, strengthen student learning.
Collaborates with our K-12 partners.
Enriches our communities and enhances the quality of community life.
Resource Stewardship
This solar system project is an investment in our physical facilities to enhance the learning environment.
Core Values
Embraces the transforming value of learning for ourselves, our students, and our community.
Connects constructively with the communities we are here to serve.
How will on-campus awareness and appreciation for the
visual arts be enhanced by this project?
The design and presentation of each pedestal will be carefully designed to bring both art and science together in one extended presentation. Design elements and principles such as line, form, value, color, scale, composition, typography, illustration, display of information, scale, materials, ergonomics of public art installations and collaboration with other design team members in engineering and science departments.