Tammy Frankland is EvCC's new executive vice president of Instruction and Student Services
Press Release
Release Date: Aug. 17, 2017
Contact: Katherine Schiffner, Director of Public Relations, 425-388-9554; kschiffner@everettcc.edu
Tammy Frankland is EvCC's new executive vice president of Instruction and Student Services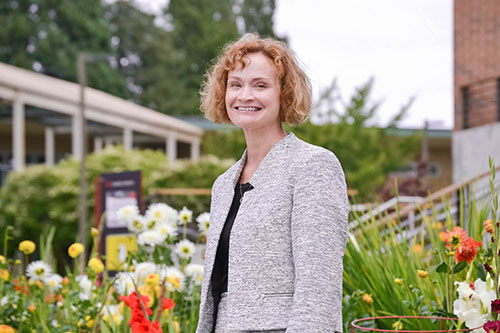 EVERETT, WA – Everett Community College's has hired Tammy Frankland as the college's new executive vice president of Instruction and Student Services.
Frankland, formerly dean of Casper College's School of Health Science in Casper, Wyoming, started at EvCC July 31.  
A hiring committee of faculty, staff, students and administrators selected Frankland for the position. She replaces interim executive vice president of Instruction and Student Services Gail Miulli who served from June 2016 to July 2017.
In addition to working as a dean, Frankland also served as the program director for Casper College's Health Science Simulation Center for the past year. Prior to becoming a dean in 2009, Frankland worked as full-time English instructor at Casper College for 10 years. 
"I feel very confident and enthusiastic about Tammy joining EvCC and bringing her knowledge, experiences and dedication to community college work to our institution. Tammy's colleagues at Casper had very positive opinions of her work and of her personally," said EvCC President David Beyer. 
At Casper College, Frankland worked closely with the community, and served as the chair of the Natrona County School District #1 Health Science Human Services advisory committee and a member of the Casper Area Economic Development Association higher education committee. She also served as the college's academic chair for Strategic Enrollment Management for the past year. 
Casper College is located in the heart of Wyoming and offers more than 140 academic transfer and technical and career programs. 
Frankland has a doctorate in human resources studies with a specialization in community college leadership from Colorado State University, a master's degree in English from the University of Oklahoma and a bachelor's degree in English and psychology from the University of Rochester. 
EvCC's executive vice president of Instruction and Student Services directs the college's overall education strategy, including leadership of the college's instructional divisions, student services offices, academic planning and communication of plans and accomplishments of the Instructional and Student Services divisions to EvCC's president, Board of Trustees, the campus and local communities.