English Language Acquisition (ELA, ESL)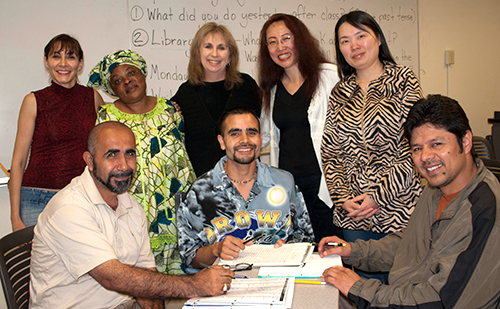 Fall classes begin Monday, September 18, 2017
Learn English
Improve your English reading, writing, listening and speaking skills. Classes are for students whose first language is not English. Learn the necessary communication skills to be able to interact successfully with English speakers in the workplace, school, and the community.
Orientation
In order to take classes, you must sign up and attend one of our Fall Orientations & CASAS Assessments. If you have any questions, you may contact us at transitional@everettcc.edu. You may call 425-388-9339 if you prefer to speak to someone by phone.
In East County, 14090 Fryelands Blvd. in Monroe, Lake Tye Building, 3rd Floor - The next Orientation/CASAS Assessment will be on September 13th and also on September 14th at 5:00 pm. For more information and to sign up, please call 425-259-8732 (English) and 425-259-8730 (Spanish).
What to bring to the CASAS Assessment:
Current driver's license or ID card (not expired)
Social Security Number (if you have one)
High School Transcript(s)
$25 for registration
 

Para las fechas y horas de orientación y exámenes (CASAS) para clases de inglés o del GED en Español, o para más información,
Inglés como Segundo Idioma
Aprenda a leer, escribir y hablar en Inglés. Aprenda las herramientas de la comunicación necesarias para poder interactuar exitosamente con las personas de habla Inglesa en el lugar de trabajo, la escuela y la comunidad.
Estudiantes que desean tomar una clase de Inglés deberán ser evaluados y colocados en un nivel de acuerdo con sus habilidades. El costo de la clase por trimestre es de $25.00.
Class locations, dates, and times
East County - Monroe High School (MHS) - Fall Quarter Begins Monday, September 18, 2017
17001 Tester Road, Monroe, WA 98272
6:10 pm - 9:10 pm - Tuesdays/Wednesdays/Thursdays
Everett Community College (EvCC) - Fall Quarter Begins Monday, September 18, 2017
2000 Tower Street, Everett, WA 98201
10:00 am to 12:10 pm - Monday through Thursday
12:40 pm to 2:30 pm - Monday through Thursday
6:10 pm to 9:10 pm - Tuesdays/Wednesdays/Thursdays
South Everett - Mariner High School (MRH) - Fall quarter begins Monday, September 18, 2017
200 120th Street SW, Everett, WA 98204
6:10 pm to 9:10 pm - Tuesdays/Wednesdays/Thursdays
Marysville Arts and Technology High School (MAT) - Fall quarter begins Monday, September 18, 2017
7204 27th Avenue NE, Marysville, WA 98271
6:10 pm - 9:10 pm - Tuesdays/Wednesdays/Thursdays