East County Campus
Take college classes and even get your two-year degree east of the trestle. EvCC's East County Campus offers day and evening classes in Monroe and much more.
Here, you'll get personal attention from a tight-knit staff with instructors who know your name. Come chat with us about your college goals today.
Coming Events:
NWIRC- Entrepreneurs and Inventors Forum, March 30 (tentative)
Morning Networking- Coffee & Connections, April 7, 8-9 a.m., Dashing Dutchman, Monroe
Cinco de Mayo, May 5 (tentative), Fryelands Elementary
East County Graduation Banquet, June 6, 4-6 p.m.
Economic Alliance- Anchor Program meeting, date and time TBD
Student Spotlight: Shane Johnson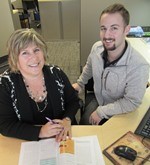 After serving in the U.S. Air Force, Shane Johnson wanted to get a job, earn a college degree and live close to his family. He was happy to discover he could do all three in east Snohomish County at EvCC's East County Campus. Shane, now the owner and general manager at Thrive Community Fitness in Monroe, said the classes he has taken toward a degree in business administration are a big part of the reason he was promoted. His advice for students: "Work as hard as humanly possible. If you want something bad enough put in the work, real work." Read Shane's EvCC story.
See why students choose the East County Campus, in Monroe. Stop by and pick up the Getting Started Checklist for new students. You can complete all the steps to become an EvCC student at our campus, or online.
At the East County Campus you can get help with advising, pay your tuition, use computer labs, buy your textbooks and more.
Learn about the programs and degrees you can earn while staying in East Snohomish County.
Read the latest news and important announcements for students, and find us on Facebook.
Meet our faculty and staff, read our campus history, and see our locations.