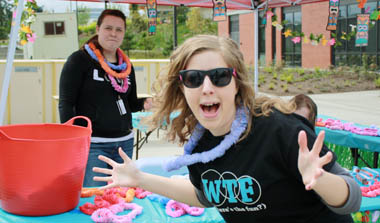 Student Programs Board
Student Programs Board is the event programming body of Student LIFE. Programs Board provides diverse programs, concerts, fine arts, lectures, health/wellness programs, recreation opportunities and special events for EvCC students, both on and off campus. The student leaders selected to serve on the Student Programs Board coordinate activities, events and series that complement academic programs and enhance EvCC students' educational experience through exposure to, and participation in, educational, cultural, intellectual, recreational, social, and leadership programs.
Manager of Student Programs Board
The Manager of Student Programs Board works closely with the Student LIFE advisor to assist and advise fellow members of the Board in all aspects of event programming, including the selection, coordination, implementation, and evaluation of all Student Programs Board events and activities. The Programs Board Manager maintains and monitors work schedules, chairs all weekly Board meetings and chairs and assists in the organization of all interview/selection committees for the Board. This position is also responsible for facilitating interdepartmental conversations and event implementation including panel discussions and lectures focusing on issues impacting the student body, current event topics, politics, diversity, human rights issues, etc.
Diversity & Intercultural Awareness Coordinator
Coordinates and implements a Diversity and Intercultural Awareness series primarily involved in educational programming that creates an inclusive and supportive campus climate. This position will work closely with departments such as the Diversity & Equity Center as well as EvCC chartered clubs to seek opportunities to collaborate and celebrate diversity through programming and leadership opportunities. The Diversity and Intercultural Awareness Coordinator with also organize and chair the Student Diversity Advisory committee with the purpose to  implement an annual  Diversity Series to further educate the EvCC campus and community with diverse and culturally enriching programming.
Health & Wellness Coordinator
Coordinates, and implements a Health/Wellness Program primarily involved in the programming of current health/wellness issues such as Responsible Choices, STD Education, Nutrition, Drug/Alcohol Awareness, etc. Coordinates quarterly Health & Wellness Fairs, Blood Drives, and student First Aid/CPR classes. Coordinator also organizes and maintains the Health/Wellness literature located in Parks Student Union.
Special Events Coordinator
Coordinates and Implements a Special Events series to include a variety of fun events with the purpose to entertain, engage and build community amongst students with events such as comedians, magicians and other novelty acts , student dances, talent shows, drive-in movies, etc. The Special Events Coordinator will also work closely with the A.S.B V.P. of Clubs to enhance quarterly Club Fests with events such as the Halloween Costume Contest, Valentine's Day Balloon Sale, and themed activities for the Spring Fling.
Trojan Nation & Recreation Coordinator
Coordinates and Implements a Recreation and Trojan Nation series designed to create recreational opportunities for students both on and off campus and to build school spirit and involvement in EvCC Trojan Nation athletic events. Recreation events can range from coordinating an intramural dodge ball game to subsidizing ticket sales for local sporting and/or performing arts events. This position will also work closely with the Athletic Director to coordinate regular Trojan Nation game days highlighting EvCC's 11 athletic programs. Game day activities may include Trojan Nation t-shirt sales, half-time shows and giveaways.
Concerts & Fine Arts Coordinator
Coordinates and implements a Concert and fine Arts Series representing diverse genres of both music and art. Music selections will encompass both solo and small group performances for a coffee house feel to larger bands which may be selected for larger scale events such as the Fall Kick-Off and Spring Fling. Fine Arts performances can range from spoken word poetry to performance dance and theatre.  Music and art can take place in so many forms and the Concert and Fine Arts series will showcase a wide breadth of musical and artistic expressions ranging  from a variety of genres and cultures.  
To apply, please complete and submit the following:
Complete the Student Programs Board Application. Available Spring 2016.
Complete Student Programs Board Questionnaire. (available Spring 2016)
Turn in application to Student LIFE, PSU 209 or email to studentlife@everettcc.edu. 
Spring quarter we will accepting applications for the academic year 2016-2017.
For questions or more information contact:
Lindsay Hudson
Program Manager
Student LIFE, PSU 209
425-388-9508 or lhudson@everettcc.edu