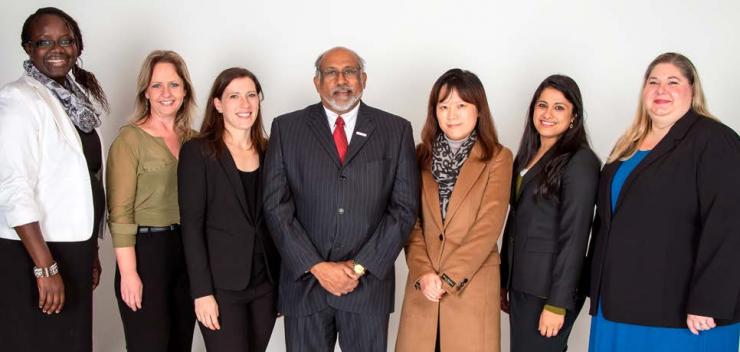 Adja Fame, Vikki King, Rebecca "Becca" Adams, Visakan Ganeson, Minjung Olfert, Anisha Jamnadas Khatri, Marla Tembreull and Amee Moon (not pictured) - Everett Community College International Education Team
Welcome International Students!
On behalf of Everett Community College, welcome to our campus! We would like to take you on a brief tour of Everett Community College 

and introduce you to a few of our students. We will provide you with information on why Everett Community College may be a good choice for your next educational step.
We are different here at Everett Community College for the following reasons:
Our campus community is passionate about your success, and we will do our best to help you reach your goals
Students transfer to many top universities across the USA.
Our faculty will work with you on a personal level to give you the highest level of educational experience.
Our classrooms are much smaller (15-25 students) to help you interact with your classmates and teachers.
We have one of the largest tutoring centers in Washington State.
Leadership opportunities are abundant at Everett Community College and this will help you grow and develop in order to compete and get into some of the best universities in the USA.
We have special working opportunities and scholarships for our international students.
We are located in the center of the Aviation Industry. The largest Boeing manufacturing facility is located within 10 miles (16 kilometers) of the college.
Our staff, in the international office, has extensive experience working and studying abroad. We understand your needs very well.
We will constantly advocate for you and make sure you have the best experience possible.
You will be treated as a member of our family.
Finally, if you decide to join us, we welcome you to Everett Community College and know that you will be in good hands.
Best regards to you and your family.
Everett Community College
International Education Team
Everett Community College International Education Team
Visakan Ganeson - Associate Vice President
Adja Fame - Program Specialist III
Rebecca "Becca" Adams - Associate Director
Vikki King - Administrative Assistant
Minjung Olfert - Program Specialist IV
Marla Tembreull - Associate Director
Anisha Jamnadas Khatri - Program Specialist III
Amee Moon - Associate Director