Current Students: East County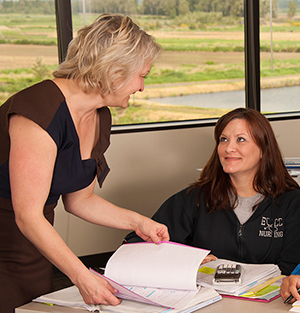 Resources for current students at Everett Community College's East County Campus include help with general financial aid questions, advising, class registration and more. Here, you can pay tuition and fees, buy textbooks, and use open computer labs.
Student LIFE provides events and activities to build student community at East County, and provides opportunities to get involved in student government.
Advising
With three full-time faculty, East County has more academic advising hours for students. Advising and counseling are available by appointment. Call 425-259-8732 for more information. Extra advising hours on Advising Night, Nov 8, from 3:00-7:00.
Bookstore
At the beginning of each quarter, the bookstore comes to the Chill Spot at the East County Campus. You can purchase your books in person or online and pick them up at the East County Campus, and books for all classes held at East County are available for sale. 
Cashiering Services
You can pay your tuition and fees here. We accept cash, check, money order, debit or credit cards (not Discover). Cashiering is available Mon - Thurs, 9 am - 5:30 pm, plus early morning cashiering on Wed, opening at 7:30 am. Fri, 9 am - 5 pm.
Check out the student computer lab on the second floor of the Lake Tye Building, in room 295. The computer lab is a quiet work area open to all students, with a tech available to help you with technical issues and Canvas, and computers available for student use. The computer lab is open Mon - Fri, 9 am - 5 pm with a tech available Mon and Wed 11-5, and Tues, Thurs and Fri 9-5. No technical assistance Oct 27 - 31.
We can answer general questions about Financial Aid, and assist you with the Financial Aid Portal.
Student Resources
You can rent a netbook computer for $20 a quarter, or a graphing calculator for $17.19 a quarter at the East County Campus location. Stop by the office in the Lake Tye Building, Suite 283 on the 2nd floor.
Registration Help
Jan Beatty-Adams can assist you with completing the registration process and becoming  an EvCC Student.  Also refer to our Getting Started list. You can contact Jan at jbeattyadams@everettcc.edu or call 425-259-8731.
Bring photo ID to the office to order your Student ID Card. You must be enrolled for the current quarter. A Student ID Card is required for some Student LIFE activities.
Tutoring
Fall Quarter Tutoring at East County
Math Tutoring: The math tutor is available Tues and Thurs 10-12:30 and 1:30-2:50, and Wed evening 7-8:30 pm.
Tutoring is located in room 302 Tues and Thurs, and in The Chill Spot Wed.