Student LIFE: East County
Hilda Pacheco, Student LIFE Coordinator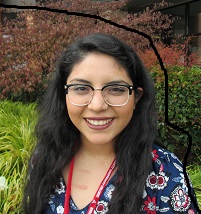 Hilda Pacheco is East County's Student LIFE Coordinator, responsible for organizing activities and building community among East County Campus students. The Student LIFE office is located next to the Chill Spot, in room 373B. Hilda's office hours are 1-6 Mondays and Tuesdays, and 12-6 Thursdays. Drop in and find out how you can become more connected at East County Campus.
Upcoming Student LIFE events and activities:
Student Council: On Thurs, Nov 16, Student LIFE will host a student council meeting, 3-4 pm. Please plan to attend, and be a part of new change at East County. Pizza, snacks and drinks. Student council officers may have an opportunity for a paid position.
De-Stress for Finals: The Chill Spot will be stocked with snacks and games, so stop by and de-stress before finals week! All day, November 30.
Welcome Table, Jan 8. Student LIFE welcomes you to Winter Quarter with a table of breakfast foods and useful information, 9 - noon.
Winter Celebration, Jan 25. Socialize with fellow East County students at this fun event.
Valentine's Day, Feb 14. Student LIFE spreads the love on Valentine's Day!
Student LIFE sponsored services:
Chill Spot student lounge/ study area computers and printer.
Student ID card camera.
Discounts at many local businesses, with EvCC Student ID card.
What is the meaning of LIFE?
Leadership, Inclusion, Fun and Engagement
Student leadership development, student engagement and inclusive activities are the main focus of the Office for Student LIFE. Student LIFE serves the Associated Students and the campus community by providing programs and services that support educational, cultural, social and personal growth, in order to create a positive learning environment that enhances the total student educational experience.