Programs & Degrees: East County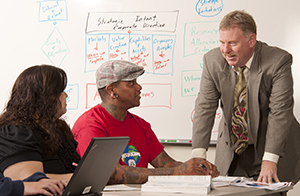 You can earn a 2-year degree or a certificate, earn college credit in high school, get job training, boost your employability, study for and take the GED® test or learn English – all in East Snohomish County. You can take all your classes here or combine them with classes at our Everett campus or online.
We're happy to talk with you about your college plans and answer your questions. Call us at 425-259-8732 or email eastcounty@everettcc.edu to schedule a visit.
Current Credit Classes
Check out classes offered for Winter 2018. Talk to your advisor about planning your classes around the course rotation at East County Campus.
Degrees and Certificates
You can complete a 90-credit degree in two or three years or a number of short-term certificates by taking classes solely in East Snohomish County.
High school juniors and seniors, are you interested in jump starting your college career? In the Running Start program, you can earn high school and college credits at the same time. You can attend classes at our Everett campus or the East County Campus.
To get started, talk with your high school counselor or contact EvCC's High School Relations office at 425-388-9008.
You can improve your math and English skills and prepare to enter college level degree and certificate programs, study for the GED® test in English or in Spanish, or learn English as a second language. The next orientations for TS and ELA classes will be on December 11 and 12. Call 425 259-8732 to reserve a spot.
Corporate Training
We also offer a wide range of customized training solutions for employers through EvCC's Corporate & Continuing Education Center. You can arrange training at the East County Campus or at your location. To find out how CCEC can support your training needs, email Ray Kubista or call 425-267-0162.