East County Campus
Take college classes and even get your two-year degree east of the trestle. EvCC's East County Campus offers day and evening classes in Monroe and much more.
Here, you'll get personal attention from a tight-knit staff with instructors who know your name. Come chat with us about your college goals today.
Beginning next week at Sultan and Monroe Libraries. Sultan group meets on Tuesdays, 5:30 - 7 pm. Monroe group meets on Saturdays.
Welcome Table, Jan 8. Student LIFE welcomes you to Winter Quarter with a table of breakfast foods and useful information, 9 - noon.
Winter Celebration, Jan 25. Socialize with fellow East County students at this fun event.
Valentine's Day, Feb 14. Student LIFE spreads the love on Valentine's Day!
See why students choose the East County Campus, in Monroe. Stop by and pick up the Getting Started Checklist for new students. You can complete all the steps to become an EvCC student at our campus, or online.
Student Spotlight: Laurie Yoakum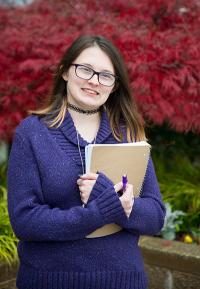 Laurie Yoakum was at the Sultan Shindig when she learned about Everett Community College's East County Campus in Monroe. She was able to start her associate degree because the campus was close to home. By working part-time, she can attend school part-time. It's not easy keeping up with work and school - or getting enough sleep - but she says the people here are really helpful, and that's one reason she recommends the campus to her friends. Read Laurie's story. 
At the East County Campus you can get help with advising, pay your tuition, use computer labs, buy your textbooks and more.
Learn about the programs and degrees you can earn while staying in East Snohomish County.
Read the latest news and important announcements for students, and find us on Facebook.
Meet our faculty and staff, read our campus history, and see our locations.
Contact Us
EastCounty@EverettCC.edu
425 259-8732