EvCC Human Powered Submarine
The Human Powered Submarine project at Everett Community College (EvCC) is a program that gives students a chance to apply the principles of engineering in a hands-on project. Students from all disciplines are encouraged to take part in the project. The project offers students a chance to work in a collaborative environment with other students to overcome a true engineering challenge. This team effort provides valuable "real world" experience and tests a student's ability to work well in a team environment.
The program operates under the supervision of a faculty advisor. Students, however, set the goals for the project and manage the progress of the effort. Details of the engineering process such as project scheduling, problem identification, concept development, detail design, fabrication, testing, and project reports are the responsibility of the student led design team.
Human Powered Submarine Races:
The races are held annually, and alternate between location and sponsor. During odd years the International Submarine Races (ISR) are put on by the Foundation for Underwater Research and Education (FURE) in Carderock, MD. On even years the San Diego chapter of the American Society of Mechanical Engineers (ASME) hosts the HPS races in Escondido, CA.
The races challenge college teams to design, build, and operate a human powered submarine. The teams may compete in one or more categories. Categories include one and two person submarines as well as propeller and non-propeller driven submarines. The submarines are operated by pilots and support crew using SCUBA and race along a straight course for best speed. The teams will also be judged on their submarine design, project presentation, and safe operation of their vehicles.
History:
The tradition of competing in the Human Powered Submarine races began in 2005 at EvCC. The 2005 team was a joint effort between Everett and Edmonds community colleges. In 2005 EvCC was the only community college to compete in the 8th International Submarine Races. The 2005 "Triton" team placed 9th out of 18 teams in the two person category with an average velocity of 3.011 knots.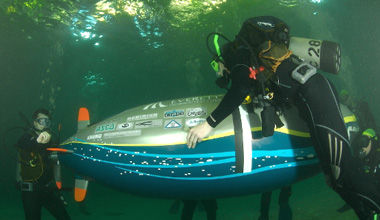 At HPS2006 Everett competed with a new team and a new submarine, "Namazu". The 2006 team decided to compete in the one person category and constructed a new vehicle including a new hull. Team Namazu finished 5th out of 6 in Escondido for their speed. The 2006 team also placed 3rd for best Project Presentation and Smooth Operating Team out of a field of 11 participants!
EVCC returned to Maryland in 2007 for ISR 9. The 2007 team revised the Namazu vehicle and re-named it "Triton II". In Triton II the team experimented with hydraulic steering and a chain driven propulsion system. Unfortunately due to mechanical difficulties Triton II was not able to post an official time, however many valuable lessons were learned.
HPS2008 was held in San Diego during the third weekend in July. EvCC competed again in the one person-propeller driven category. The 2008 team's goals were to complete three timed runs as well as set a new EvCC Human Powered Sub speed record. The 2008 design team dubbed the vehicle "Proteus." In an effort to save time and cost, Proteus utilized the hull originally constructed by the 2006 team. The design team engineered entirely new propulsion and steering/control systems as well as improved pilot ergonomics and vehicle stability. Some of the new features planned were are a high efficiency bevel gear drive system, modular cable operated steering system, new control surfaces, bow planes, and a high visibility window system.
Thank you for your interest in our project!