Top 10 Success Tips from a Graduate
By Traci, EvCC class of 2012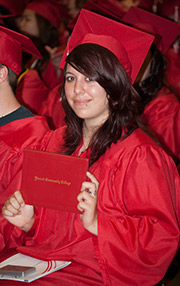 I learned a thing or two besides academics while attending Everett Community College. Like how to successfully balance school and life, and how to get help when I needed it.
In June 2012, I graduated with my Associate in Arts and Sciences Degree, and this fall I start classes at Western Washington University's Huxley College for the Environment.
I want to share with you a few things I learned about how to be successful in college. While everyone's different, these strategies worked for me, and I hope they'll help you, too.
1. Talk to an educational planner or counselor. Whether you are getting started at EvCC, deciding what classes to take, or figuring out your educational goals, you can get help in Counseling & Student Success. They can really set you up on a path to get where you want to go.
2. Make a plan. Advisors will help you create a degree plan, which will help you save time and money by taking the right classes and planning ahead. It helps you graduate on time. At EvCC you're required to meet with an advisor before registering for your third quarter, but I recommend doing it as early as you can.
3. Go to class every day. It sounds like a no-brainer, but going to class is really important so you don't get behind. If you miss a class, talk with your instructor to make sure you stay on track.
4. Get a planner. Whether you prefer to keep track on paper or electronically, schedule weekly study time and stick to it! I went to school most mornings before class and used the time to go over my notes from the day before. Also, I kept track of when class assignments were due in my planner, so I had all my deadlines in one place. 
5. Ask questions. Your instructors are there to help you. If you have a question that didn't get answered in class, talk to your instructor right after class or the next day, so it's fresh in your mind. Or, stop by their offices. Every instructor has office hours when they are available to help you.
6. Get free tutoring. I used the Rainier Learning Center when I needed extra help in math and chemistry. The tutors went into intricate detail about the topics I didn't quite understand in class. They can help you with reading, study skills, math, writing, computers, other subjects and even give you educational and personal counseling. 
7. Create a study place. Find a place you can focus in, which might not be at home. I found quiet hallways in Shuksan Hall on early weekday mornings.
8. Know your peers. Get to know the people who are taking classes with you, so you can study together, ask questions and get help staying on track.
9. Know your weaknesses. If you have a weak subject (mine is math), one way to tackle it is to balance your classes. I found that I can't take too many math and science classes at the same time or I get overwhelmed. Find that equilibrium for yourself.
10. When you're stressed, change your mindset. I learned this in a painting class from instructor Sandy Lepper, who ended up inspiring me to study environmental science at Western Washington University. She said when everything is stressful you can make tiny changes in your mindset that make huge differences. Make it a point to smile or give someone a hug and see how it can change your perspective – and your stress level.
Bonus tip: Access student services and resources on the web site. You can find links to EvCC's Center for Disability Services, the Student Job Center and much more at www.everettcc.edu/students. If you don't find it there, use the search bar in the top right corner of the web site.
Good luck!