Honors at Everett - Stand Out!
Who is eligible?
Any student can take the initiative and begin Honors work. All a student needs is a B or higher in English 101 and a 3.5 GPA to get started.
What is the Honors Program?
The EvCC Honors Program has been designed to give our students an opportunity to stand out in their applications for transfer to 4-year schools and on their resumes, and to do Honors-level academic work while working toward their AAS degrees at EvCC.
Roll up their sleeves and experience what professionals in the field actually do
Explore new depths, broaden horizons, and integrate knowledge
Participate in an Honors Student Advisory Board
Stand out from the crowd when searching for a job
Admission to the Honors program is not necessary for enrollment in Honors (HN) sections of classes.
Why Honors? In their own words...
"I joined the Honors Program because I wanted to get the most out of my community college experience and challenge myself both academically and intellectually." Chelsea Perry
"My honors work gave me the opportunity to complete research projects in Psychology, discover a microbe in a local lake that is being studied at Stanford as a potential fuel source, and write a new cardiac laboratory experiment for Physiology that is now used to teach class." Michael Hansen
"It wasn't until I started getting connected through the Honors Program...that I began to truly experience the best of EvCC."  Michelle Geiszler
How can I know whether the Honors Program is for me?
You can try it out!  You may take an HN-section (Honors-designated sections will have an "HN" after the course number).  If you apply for admission to the program later on, theses courses will all 'count' towards your Honors Program progress.
Even if you decide not to apply for the Honors Program, your transcript will show that you took an Honors course (ENGL& 102 HN = COMPOSITION II: HONORS).
When can I start?
Whenever you are ready!  Honors sections can be found during Fall, Winter and Spring quarters in multiple disciplines.
How can I get more information?
Lori Wisdom-Whitley, Honors Director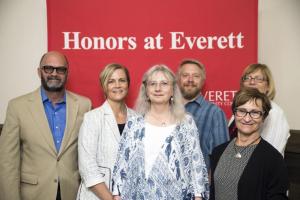 Your Honors Council:(L-R) Charles Fischer, Diane Brown, Joyce Walker, Joe Graber, Peg Balachowski, Lori Wisdom-Whitley
Not pictured: Heidi Weiss-Green, Lindsey Fralic, Amy Wilcox