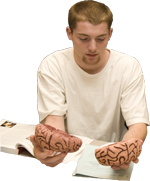 Students interested in achieving a degree in psychology are encouraged to pursue the Associate in Arts and Sciences - DTA 

. This degree meets statewide guidelines for smooth transfer to most Washington state colleges and universities, as well as many major colleges and universities world wide. With this degree, you will have completed most or all of the traditional, general education courses typically required for completion of a baccalaureate degree. The complete description of this degree program, with a checklist, is provided in the Associate in Arts and Sciences Direct Transfer Guide.
Everett Community College can offer you the option of completing the first two years of coursework toward a major in psychology or any of a variety of related social science degrees. Here at EvCC, you can enjoy the benefits of smaller classes and lower tuition and then, upon successful completion of the necessary course work, we can assist you in transferring to a college or university for further study.
We encourage you to work with a faculty advisor to assist you with your academic planning. Preparation and planning are essential in making a successful and smooth transition into the next step of your academic adventure. Please feel free to contact any of the advisors listed in the column to the right, or visit Counseling & Student Success on the third floor of the Parks Student Union.
Attending college, whether it is for a specific career choice, a general education preparation, or for personal satisfaction, can be fun and rewarding. The faculty and staff of Everett Community College are looking forward to helping you along your journey, wherever it may lead.