EMT - Emergency Medical Technician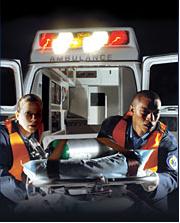 Our EMT intensive course is preparation for the Washington State Emergency Medical Technician (EMT) examination and the National Registry Emergency Medical Technician (NREMT) exam. The Testing Center at EvCC is a NREMT test site. Both exams are offered at the conclusion of the training. Course meets The National Emergency Medical Services Training Standards - Instructor Guidelines published January 2009, as well as complies with WAC 246-976-023, including training in Multicultural Health and Infectious Disease training per the requirements of RCW 70.24.
The course includes lectures and hands-on practice of techniques, including
Introduction to Emergency Care
Bleeding and shock
Soft tissue injuries
Environmental emergencies
Lifting and moving patients
HIV/AIDS education
Emergency childbirth
The 3-day per week course is held Monday and Wednesday nights from 6:30 pm to 10 pm and Saturdays from 8:30 am to 5 pm for 11 weeks, at Everett Community College.
Liberty Hall, room 107, 100% attendance is required.
Next Course
Emergency Medical Technician (EMS 151) Spring 2018-- Begins Saturday, March 31, 2018.
Plan ahead, deadline for submission of application for spring quarter is March 2, 2018.
Mandatory Pretest on Ch.1-4 in textbook. Schedule a pretest (425) 388-9591 in Liberty 262
Mandatory EMS Training will take place on the Saturday prior to the start date each quarter, 
Mandatory Training detail for Winter: Saturday, March 31, 2018 at 8 am in Liberty Hall, room 107
EMS 151 is offered Fall, Winter and Spring quarters.
Entrance Requirements
18 years of age prior to first day of the EMT course
High school diploma or GED or college transcript
Complete the college placement exam and score into ENGL 97 and MATH 79 through EvCC Testing Center
Purchase textbook: Brady Emergency Care (13th ed.)
ISBN: 978-0-13-419075-4, available at EvCC Bookstore
Study Chapters 1, 2, 3, & 4 (preparation for the pretest)
Schedule the EMS pre-test at (425) 388-9591 and pass with a minimum score of 80%
All applicants must have American Heart Association (AHA) BLS Provider card which was issued within 6 months of the start of the EMT course.
Mandatory attendance on the Saturday prior to the class start date is required as part of training.
Physical strength adequate to perform the normal functions of an EMT
Successfully pass a background check
Verification of required immunizations
Verification of health insurance
Applications need to be brought to Liberty 262, incomplete applications will not be accepted
Application and Admission Process
EMT Program applications

 can be downloaded from this website or picked up in the Fire Science office, Liberty Hall 262, located at Everett Community College. Applications are accepted on a first-come, first-served basis. Successful applicants will be contacted and will receive permission to register.
All forms and copied attachments must be submitted as a completed application.
EMS 151 (EMT) is a course within the Fire Science (AAS-T) Degree and is approved for Financial Aid, VA, scholarships and grants.
Note: For more information about our graduation rates, the median debt of students who completed the program, and other important information, please visit our page on Higher Education Act Gainful Employment and Graduation Rate Data.