Foster Youth and Foster Youth Alumni
Your Passport to a 
Successful Future 
Starts at "EvCC Connect"
Read The Herald story about EvCC Connect -"Trying to beat the odds: Few former foster kids go to college; EvCC wants to change that" 
We can help you make the transition to independence.
You can use your college experience to help you:
Examine your career options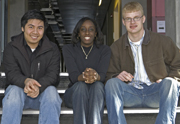 We want to connect with you and help you through the process. Learn more about EvCC Connect with our program brochure 

. We can help you apply for special financial assistance ;to cover your college expenses, housing, and living costs.
Contact: Avianca Walker
awalker@everettcc.edu, 425-388-9099
Links to special financial support programs