Nursing Information and Advising
Changes to Information Sessions and Advising
March 10, 2015 will be the last date for on-campus, in-person information sessions for the Nursing Program. We are switching to an online video version, so students can learn about the Nursing Program at a time that works best for them.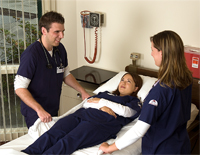 Here is the link for the online information session, including a transcript of the video. 

  Also check the Nursing program announcements and changes page frequently for additional updates to the program.
Upcoming Nursing Information Sessions
| | | |
| --- | --- | --- |
| January 20 | 9-11 am | LBH 105 |
| January 20 | 1-3 pm | LBH 105 |
| March 10 | 9-11 am | LBH 110 |
| March 10 | 1-3 pm | LBH 110 |
Drop in Advising Dates and Times
Advising in the Nursing Program is not done through scheduled appointments with assigned advisers. Instead, we use a method called drop-in advising. Each quarter we post new dates and times for drop-in advising. Students come at the posted times and meet with advisers who are seeing students that day. Nursing faculty do not schedule appointments for advising. Before attending drop-in advising, a student must have a student ID number with Everett Community College and should have watched the online information session.  The current quarter schedule for advising is here 

.  Just pick a date and time that works best for you, and go to the Liberty Hall office of the adviser(s) listed. There will be a sign-in sheet and students will be seen in order of arrival.
Come to Nursing Advising Week!
Each quarter during Advising Week there are extra nursing advisers available to see students. Nursing Advising Week is open to all students interested in the Nursing Program. Please watch the online information session and have an EvCC student indentification number (SID) before coming to advising. A student must have met with a nursing adviser at least once in order to apply to the Nursing Program.