Nursing Admissions Procedure
Nursing Program Admissions Procedure
Application Cycles
Fall Quarter: June 01 - July 05
Winter Quarter: August 01 - September 05
Spring Quarter: November 20 - January 05
Online Application
The EvCC Nursing Program Application is submitted online.  Please review the information on this page, as well as the Application Checklist

  and Application Guidelines, 

  to confirm that you are ready to proceed.
 Prerequisites and Completion Requirements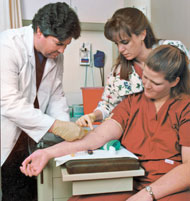 Mandatory Nursing Pre-Application Class 

Testing Policy 

and Registration Guide

 
Current Testing Dates (Please register for testing dates using the Registration Guide above):
November 30 - 10:00 - LBH 105
December 03 - 10:00 - LBH 105
December 11 - 10:00 - LBH 107
Students may take the test only once per application period.
PAX Test Composite Conversion Table 

Immunization and Background Requirements
All applicants must create an immunization account and complete a background check
through our new online system with American DataBank (ADB). The immunization section is called Complio. Your immunization account is good for one year, for a cost of $15. You will need to select the "Pre-admission ADN Applicant" option when creating both your immunization and National Background accounts. The background check starts at $55 and can go up if you have lived in several counties or states. The background check portion of the account is good for six months. If it expires on or before the deadline, it must be renewed, or it will keep you from being considered for the program for that application period.
Your application must be completely compliant with the standards on the Clinical Passport

by the deadline date in order for you to be considered for the Nursing Program for that quarter. Please read about the Hepatitis B immunizations and testing as this process can take up to eight months to complete. Also review the Tuberculosis requirements

before visiting your healthcare provider for this test.
Student Immunization Discount Form 

Point System 

  and Calculating GPA 


This system gives students a more diversified way to earn admittance into the program. While your test scores are still a factor, you now have other opportunities to earn points, from prerequisite GPA totals, work experience or certificates in the healthcare industry, and other educational degrees earned above an Associate's Degree.
Employment Verification Form 


Please note that we will not accept an Employment Verification Form if the corresponding licensure has not been submitted as well.
Credit Transfer Process 

Advanced Placement Transfers