Welcome to eLearning
The eLearning department at EvCC supports the use of technologies that promote and enhance teaching and learning. We provide extensive support for the campus learning management system, Canvas, and related tools to ensure they are usable and useful to students and faculty alike.
We also consult with faculty on course design and innovative learning technologies, provide workshops and training related to digital and online pedagogies, and continually investigate new tools that support teaching, learning, and student success.
We welcome inquiries, requests for educational technology consultations, and suggestions for new and creative ways to augment teaching and learning experiences at EvCC through the use of digital and online technologies.
Announcements and News
Accessibility Jam: Thursday, May 18, 2018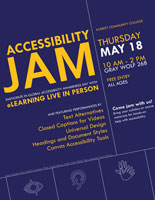 Do you want to make your syllabus, videos, and other course materials more accessible? Would you like to learn more about accessibility tools available to you right here at EvCC? Then join the eLearning team in Gray Wolf Hall 268 on Thursday, May 18, any time between 10 a.m. and 2 p.m. for our first Accessibility Jam. Whether you have five minutes or fifty, this is a fun and informal opportunity to drop in and get hands-on help with whatever accessibility questions you have. Light snacks will be provided!
Important changes to Canvas logins for new accounts
Beginning December 12, 2016, the minimum length of the PIN used to log in to all new Canvas accounts will increase from six to eight digits. This change will affect all students, faculty members, and staff members whose accounts are created on or after December 12. Current Canvas users will not be affected. If you have difficulties logging in to Canvas, please contact us at elearning@everettcc.edu or x9027.
Have a Canvas question? Ask Hannah!
eLearning's Hannah Lovett will answer your Canvas questions. She tries to answer questions within 48 hours (two business days).
Hannah usually works Monday-Thursday 8 a.m.-5 p.m. and Fridays from 8 a.m.-4 p.m. (with lunch 12-1). If you can't reach her or have a question outside of those hours, email her, and she'll get back to you.
Hannah only answers questions about Canvas. Here's how to get help with some other technology questions:
Canvas Guides
Troubleshoot and learn more about Canvas with the Canvas Guides