Welcome to eLearning
The eLearning department at EvCC supports the use of technologies that promote and enhance teaching and learning. We provide extensive support for the campus learning management system, Canvas, and related tools to ensure they are usable and useful to students and faculty alike.
We also consult with faculty on course design and innovative learning technologies, provide workshops and training related to digital and online pedagogies, and continually investigate new tools that support teaching, learning, and student success.
We welcome inquiries, requests for educational technology consultations, and suggestions for new and creative ways to augment teaching and learning experiences at EvCC through the use of digital and online technologies.
News from eLearning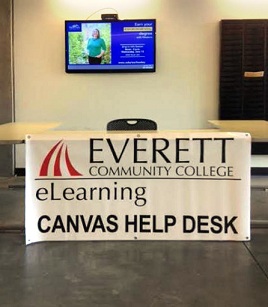 Canvas Help Desks are coming soon!
We're excited to announce that we will soon be opening Canvas Help Desks in at least two convenient locations on Campus. Students who encounter problems accessing or using Canvas will now be able to stop by to get help directly from trained student help desk employees. We'll be posting times and locations for the new Canvas Help Desks soon.
Have a Canvas question? Ask Hannah!
eLearning's Hannah Lovett will answer your Canvas questions. She tries to answer questions within 48 hours (two business days).
Hannah usually works Monday-Thursday 8 a.m.-5 p.m. and Fridays from 8 a.m.-4 p.m. (with lunch 12-1). If you can't reach her or have a question outside of those hours, email her, and she'll get back to you.
Hannah only answers questions about Canvas. Here's how to get help with some other technology questions:
Canvas Guides
Troubleshoot and learn more about Canvas with the Canvas Guides
.