Campus Life
International students are welcomed in all aspects of campus life. Many students are involved in our International Student Club and other student organizations, such as Phi Theta Kappa and Brothers and Sisters United, and the Nippon Friendship Club. EvCC offers a variety of different sports programs. Check out our website for athletics and intramurals.
Many students enjoy studying over a cup of coffee in the espresso bar in the Parks Student Union. On warm days, many students can be found outside on the lawns and around benches. Almost every week the Student LIFE program sponsors panels, films, musical groups, lecturers and cultural activities during the noon hour and some evenings.
City of Everett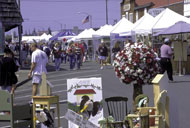 Everett, Washington is an All-America City, and is a rich landscape of choices. The Silvertips hockey team, the Everett Events Center, the Everett Performing Arts Center, and the AquaSox baseball team are a few of the many attractions. You will also find movie theatres, a farmers market, and many local parks to enjoy.
Like most community colleges in the US, our students have varied backgrounds. They may range in age from 16 to 66. They may be recent high school graduates, or mothers and fathers returning to school for more education or career development. Some students are studying in university transfer programs and plan to transfer to a university for a bachelor's degree. Others may be focused on short term technical training programs.
Recreation
Do you like to ski or snowboard? Several ski areas are within easy driving distance of Everett: Mt Baker, Stevens Pass, Alpental, and Snoqualmie. Grouse Mountain and Whistler up in the Vancouver area are also within driving distance. For great powder, check out the Methow Valley and Mission Ridge to the east of Everett.

Washington has many different parks: lakes, mountains, ocean beaches, volcanic outcrops, bird refuges, and more. Do you like island living, with opportunities for biking and beach walking? The San Juan Islands
are an easy ferry ride away, and a favorite get-away for all of us in the Pacific Northwest.
Seattle (Washington) and Vancouver (Canada)
Living in Everett makes trips to nearby cities easy!
Seattle: Learn about travel, cultural, dining, and other attractions in Seattle, which is about 30 miles south of Everett.
Vancouver is about 110 miles north of Everett. Depending on the country of your passport, you may need a visa to enter Canada. In all cases you must carry your international student visa (passport) and your form I-20 properly endorsed by EvCC's International Student Advisor when you enter Canada and re-enter the USA.
Buses
and trains
run between Everett, Seattle and Vancouver.
Transportation
Many students purchase a car in order to get around. This can be expensive. A used car may cost about $2,000 - $10,000. A new car can cost from $13,000 - $25,000. Auto insurance can cost about $1500 per year. Gas and maintenance can average about $250 per month.
The City of Everett is located in Snohomish County. There are two bus systems available. Bus service runs directly to the Everett Community College campus on the Everett City and Community transit with connections around the county and in Everett.