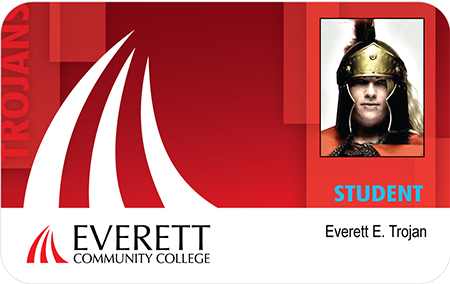 Where to Get Your Card
The Welcome/Information Center, Parks Student Union. 
You must pick up your card in person (including students taking classes online, at Aviation Maintenance and Cosmetology). For students taking classes at EvCC's East County campus, call 425-259-8732.
What to bring
Your Everett Community College student ID number (SID). Look up your SID here.
Photo identification, such as a driver's license or passport.
*Must be a currently enrolled student in order to get a EvCC Student ID.
What can I use my EvCC Student ID for?
There are a range of uses for your student ID at EvCC. Check out some of the benefits!
Official EvCC student photo ID
EvCC Library card
Check out netbooks
Free access to the fitness center
Free access to student campus activities and EvCC athletic events
Discounts!
Note: Do not attempt to modify the card in any way such as punching a hole in the card to hang on a lanyard. The Welcome Center can punch a hole into your card if you so desire. You may need to scan or swipe your card. For example, to check out library books.
How long is it valid for?
Your student ID if valid during the time you are enrolled on campus.
Lost or stolen cards
For a replacement student ID card, visit the Welcome Center, Parks Student Union. There is a $10 fee to replace your lost or stolen EvCC Student ID card.