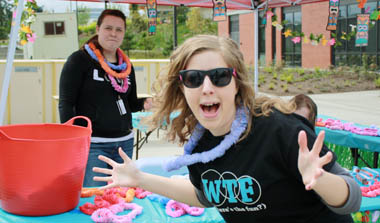 Student Programs Board
Student Programs Board is the event programming body of Student LIFE. Programs Board provides diverse programs, concerts, fine arts, lectures, health/wellness programs, recreation opportunities and special events for EvCC students, both on and off campus. The student leaders selected to serve on the Student Programs Board coordinate activities, events and series that complement academic programs and enhance EvCC students' educational experience through exposure to, and participation in, educational, cultural, intellectual, recreational, social, and leadership programs.
Manager of Student Programs Board
The Manager of Student Programs Board assists and advises fellow members of the Board in event coordination, implementation, and evaluation, maintains and monitors work schedules, chairs all weekly Board meetings and chairs and assists in the organization of all interview/selection committees for the Board. The Manager will work closely the Student LIFE advisor to organize and co-chair bi-weekly meetings with the Student Diversity Advisory committee with the purpose to select and coordinate an annual Diversity Series to further educate the EvCC campus and community with diverse and culturally enriching programming.
Diversity and Intercultural Awareness Coordinator
Coordinates, plans and implements a Diversity and Intercultural Awareness series primarily involved in educational programming that creates an inclusive and supportive campus climate. This position will work closely with departments such as the Outreach, Diversity & Equity Center as well as EvCC chartered clubs to collaborate, select and coordinate annual programming recognizing diversity awareness months. Coordinator will also serve as a member of the Student Diversity Advisory Committee..
Health/Wellness Coordinator
Coordinates, and implements a Health/Wellness Program primarily involved in the programming of current health/wellness issues such as Responsible Choices, STD Education, Nutrition, Drug/Alcohol Awareness, etc. Coordinates quarterly Health & Wellness Fairs, Blood Drives, and student First Aid/CPR classes. Coordinator also organizes and maintains the Health/Wellness literature located in Parks Student Union.
Special Events Coordinator/Recreation Coordinator
Plans and coordinates a special events series to include a variety of programming such as comedians, magicians, dances as well as the annual Halloween Costume Contest, Valentine's Day Balloon Sale, Spring Fling and Drive-In Movie/Family Night. Also responsible to coordinate recreational activities such as subsidizing ticket sales to EvCC students for local sporting or performing art events.  
Fine Arts/Lecture Coordinator
Coordinates, plans, and implements a Fine Arts/Lecture series primarily involved in the programming of a variety of performances such as music, poetry, theater, panel discussions and lectures focusing on campus issues, current event topics, politics, diversity, human rights issues, etc.
Concerts Coordinator
Coordinates, plans, and implements a Concert Series representing diverse genres of music performed by both soloists and bands for both smaller scale events and larger scale events such as the Fall Kick-Off and Spring Fling. Coordinator may also include programming such as a student music showcase, talent show and/or student dances.
To apply, please complete and submit the following:
Complete the Student Programs Board Application. Available Spring 2015.
Complete Student Programs Board Questionnaire. (available Spring 2015)
Turn in application to Student LIFE, PSU 209 or email to studentlife@everettcc.edu. 
Spring quarter we will accepting applications for the academic year 2015-2016.
For questions or more information contact:
Lindsay Hudson
Program Manager
Student LIFE, PSU 209
425-388-9508 or lhudson@everettcc.edu