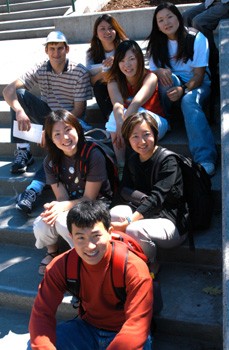 "Despite the cultural differences, I adapted quickly to exchange ideas with other students. I learned slang, gained confidence in my speech and I realized that the college life at EvCC is fun and exciting." 
Adrian Martin Raul Ale (Argentina)
"Coming to Everett Community College for my first two years of undergraduate study was one of the best decisions I have made in my entire life. EvCC challenged me both academically and mentally and provided me countless opportunities to be who I am today. Without any reservation, I recommend EvCC as a great academic institution where all the faculty are very enthusiastic for teaching and so are the students. I hope you will be the next person to experience exciting and precious days at EvCC".
Yoshiko Inose (Japan)
Past President, International Student Club;
Outstanding Graduate and Student Speaker at 2003 Commencement
"EvCC was, is and will always be my home. I got help from everybody, whatever the need. I can see how warm and friendly people are here. I'm never lost in America because I have them."
Thuy Van Nguyen (Vietnam)
Past Vice-President International Student Club
EvCC was a place where I found friends from all over the world - Japan, France, and Finland, to name a few. We were friendly and willing to help one another. There was a family atmosphere when we went on field trips. When we got together for potlucks, everyone brought food from their own country. This helped me deal with the pain of being away from my family".
"EvCC, especially Ms. Joy Fitzpatrick, the International Student Advisor, was supportive of us by providing information and help. EvCC is a friendly environment for learning and growing. I was given the opportunity not only to be successful in my studies, but it helped my leadership abilities as well. I became the first-ever International Student Association President for EvCC".
Ted-David Mizingou, former student
It Is Easy to Get Involved
The EvCC International Club depends on your participation! Join us for evening activities, weekend trips, and an opportunity to share your experiences in the US. Recent trips have included Woodland Park Zoo, University of Washington, the Leavenworth "Bavarian Village", Deception Pass State Park, and Historic Port Townsend.
There are many other club opportunities as well. Consider joining the Asian/Pacific Islanders Student Union, the Drama Club, Brothers and Sisters United, or the Engineering Club.
Our Student Government Association has many positions for student representatives, and the Student Programs Board looks for volunteers to organize events, programs and educational opportunities for students.